Check the VIDEO GALLERY on the left for lots of Red Bennies videos.
Check out RED BENNIES music also at rest30records.bandcamp.com. Bandcamp is fantastic FYI.
New album "Gang Up" is on there.
NEWS: (Newest new is at the top BTW)
Red Bennies is currently Halee Jean on drums, Ashleigh Bassett on bass, and David Payne on singing, theremin, and guitar.
'We're still using SPACE INVADER brand amps, and though we may sound like shit, we are still pioneering the idea that a loud rock group can have omni-directional acoustic integrity. Booyah!
There is still crazy-slight infrastructure for rock and roll in town. I'm trying to think if it's worse or better than the rock climate of American Fork in 1994. I think it's better than that for popular groups, worse for us. I tried to hash out a house show at my house for this weekend, and abandoned the idea thinking that no one would come, haha!
Our other band, Jazz Jaguars, just won an award from the City Weekly for "Best Survival Strategy", in relation to how we've established a weekly night at the Twilite Lounge (for our lounge music), but use it in great part to play soft versions of Red Bennies songs, our friends songs from their long-extinct bands, and, for that matter, the 'lounge group' idea is just an invention to get permission to play in new places without bothering anyone.
So, anyways… is rock and roll dead, or passed-out? Is Netflix alive? Just food for thought- not dissing the real rock bands in town! (I can't remember who they are right now).
Also: I turned in our latest album "High Score" to slug magazine, then had a realization that the album was p-r-e-t-t-y far out, and I was expecting first (local) super bad review. But Brian Staker (who wrote the review) gave it the most delicate and articulate treatment, I couldn't believe it. It was the best review we've ever gotten, and summed up my own feelings about the group. So, thanks Brian.
NEWS: Red Bennies uses SPACE INVADER brand amps exclusively.
NEWS:
Red Bennies is currently Halee Jean on drumset, Dolan Lucero on bass, Christy Matthews on guitar or bass, and David Payneful on vocals, guitar and theremin.
Red Bennies has been heavy into serious music-video-age, check those out. Burt's Tiki Lounge has closed, which has been our main base for the last couple of years. I'll lay it out, as I understand it, in an incredibly interesting list:
1. Rock'n'Roll days are just totally over. The infrastructure of the city, including Shred Shed, Urban Lounge, Bar Deluxe, Diabolical Records, Kilby Court, 5 Monkeys– those, COMBINED, could maybe permit us a show a month, if I hussled by best game. But we're enlightened musicians who want to enjoy playing around once a week, so we're screwed.
2. In Utah, as long as I can remember, liqour licences are incredibly hard to obtain, and not sell-able.
3. I don't believe Burt's has been attempting to be a viable business for the last 7-8 years. I think they've just been sitting on their license, like a piece of real estate. Every night, the bartenders would open, stopping by the 7-11 for a 12 pack of PBR, then trying to make enough money during the night for tomorrows box of PBR. (the last couple years, they actually started keeping a fridge of nicer beer, and put in a single tap).
4. What this all adds up to is: Burt's was the ONLY place in town where an out of town band (or us, for that matter), could book a show, regardless if anyone CAME to the show or not. –and on that note: 10 years ago, when rock'n'roll was a popular thing, people would perhaps go to a rock bar regardless of who was playing. Now, a band of strangers from overseas or anywhere in the country is an empty show, and Burt's was the place in SLC where those people could get permission to plug in. So now bands of strangers are pretty much not allowed in SLC.
5. As for us, it feels pretty much exactly like the late 90′s living in Provo, where if you want a show you have to make it yourself, like rent an armory, or play in the basement of Arby's. And all the punes think that this is normal and that house shows are where it's at anyways– well, I want to play at the bar, and we don't have any friends!! Waaaaaaah!! Goodbye Burts!! Goodbye us!!  Feeling sympathetic? my email is dpful at hotmail dot com, we will play anywhere, anytime. Well play for 50$, unless we can scrape up some more… will you take a check?
Update: we just play once a month or so now like a normal band.
RED BENNIES WILL NOW HONOR TERRENCE WARBURTON
I talked to Terrence the other day and he said he'd seen the blog, and he complained that it hardly mentions him here. So here's a short list of pros and cons about Terrence:
PRO: He was in the band for almost longer than anyone, like 10 years or something, playing the Rhodes and Organ.
PRO: It was even his idea to be in the band and add keys, I think.
PRO: He is an excellent musician, he now is one of the rare movers and shakers in SLC who still plays fresh music and who plays with younger people.
CON: In the group, he was sometimes, neurotic, depressed, or moody. There were times when going to band practice for Red Bennies was like being in a band with Darth Vader, The Emporer, and General Grievous- you have to guess who was who.
PRO: He always made the group look cool with his stylistic hair and clothes.
CON: for a long time, he didn't have a car, and picking him up was a combination of worth it and pure hell.
PRO: once after I picked him up, the oil refinery exploded and we saw a huge fireball that we thought was down the block- it was really a mile away!!
PRO: He's locked and loaded to fill in for Dolan on bass for us as soon as a show comes up.
PRO: He's supported me and my music for as long as I've known him, and he's a dear friend to me, on a personal note. But I used to keep bands pretty impersonal.
PRO: He made tons of amazing music before, during, and after I played with him in Red Bennies, including KNVS, and he was always very deliberate about how he was going to approach things. Both stylistically and pragmatically.
ABOUT RED BENNIES, Salt Lake City's longest-lasting and best rock band.
Red Bennies is the first group I've ever had all to myself, and I'll always have it. I started it in 1994. Since then, it's been my main artistic outlet for really trying to be tough about IT, and 20 years later, it's still that way. The songs make me cry when I write them, play them, and hear them– maybe anyone that's had a group so long cries about it ha ha. Needless to say, I like the music and the project very much. I've always sang and played the guitar in the group as well as composed and directed, and I produced most of the recorded stuff, when I've been allowed, which was technically never, looking back into the past, but now I'm always allowed. One time I played a bass duet with Paul on one song- I think at only one show. It was at UVSC, and is probably the only song we've ever done that doesn't have a recording. I played the piano in the group one time at Kilby Court. The current and best lineup is Halee Jean on drums, and Sayde Price on bass. Past bandmates (in reverse order) all the way back to 1994 is: Dan Thomas on drums, Tommy Nguyen on bass, Terrence Warburton on rhodes, Scott Selfridge on guitar/bass, Paul Butterfield on bass, Josh Knight on drums, Gentry Densley on guitar, Mike Sartain on drums, Eli Morrison on guitar, Nate Pysher on drums, Andy Patterson on drums, Robbie Davis on drums, Steve Gibb on drums, Justin Barlow on bass, Pat "Dillbag" Dahl on bass. That list is a who's who of my life. Also Josh Stippich who recorded all our early work. I'm writing this and watching Aliens, and it's the first face-off in the basement and so many people died in this scene. That's how the band has been. I'd sure love to see all you guys again. Here's the recorded work in reverse order:
GANG UP

This album is up here only through the medium of Bandcamp, because the songs switch up all the time. I try and take my ZOOM digital 8 track, which, as far as I know, is…. check this progression: 4 track tape machine- record band cheap, then all the 4 track tape machines break as digital four tracks take over, which can only record 2 tracks at once so you can't record a band, 10 years go by, ZOOM makes a cheap digital 8 track stand alone unit, you can now records bands again.  Anyways, I take my 8 track, record the shows, then burn CD's of the newest and best stuff and sell them at the next show for 5$. "Gang Up" is that CD. So if you go see a show and yell a swear word real loud, it'll probably be on Gang Up the next week. If you want Red Bennies with personality, this album is THE ONE. David Payne on vocals, guitar, theremin. Halee Jean on drumset. Sayde Price, NIK, Christy Matthews and Dolan Lucero on bass. You have to click the bandcamp player or link to hear the songs, and the lyrics are there too if you go to the site, but here's a list of the songs that are on there and what they're about.
Phoenix This song features blind kaleidoscopes of love from your own cats eyes. And it's about projecting our perceptions onto other things. Alright, here's my general belief: What to you get when you cross a squirrel brain with a 200$ netbook processor, throw it in a body that's more of a swamp than a machine, and let it see a small percentage of the next and last 10 seconds, but make it live 80 years, and this creature can also realistically imagine and zone out into dinosaur times and beyond.
Out of Town This song documents: the field I grew up next to and walked to school through, where a guy would (surely) shoot you with a BB gun that shot salt crystals out of it if you went into his property, so you had to cross a harder part of the river, stepping from rock to iceberg, and climbing a harder fence. And: I used to live downtown, a block away from my favorite coffee shop where I spent a lot of time, and then it changed locations out of the city right next to a field very much like the one from my childhood. The song is about the difference between city folk and country folk.
Puppy Love I hope that when people hear this song, it's about their incredible love for their little dogs that bring so much joy. But the song is really about having children and not wasting your love on animals.
Past And Future This song is about the one animal that comes oh-so-close to getting a grip on ability to perceive the passage of time.
Soft Words This song is about whoever's in charge saying "give your body or your heart to me, but not both", as in, express yourself through your art, imagination, get skinny and die as a skeleton in the snow outside. Or vice versa. The second verse describes some basic mortalities after a first verse that illustrates a dream I had about nuclear bombs going of in my hometown when I was a kid.
Yeah This Is It This song first appeared on our first CD "Hey Rocker". It's about a friend of mine who said that if you "sent your thoughts out to the cosmos", your desires would be fulfilled. It could pretty much be directed also at the girlfriend I had at the time… and.. who …still is. It's also an ode to my favorite band in the world; Red Bennies. And underneath it all, it's about the never-ending cycle of forgetting how to be happy, that plagues all sad people.
Red Bennies This song is about what it's been like to be in the Red Bennies. It's our theme song. It appeared originally on the album "Glass Hands". On this recording, I think it morphs into a lengthy version of the Jazz Jaguars song "Strange Streets". Jazz Jaguars is a straight-up jazzy lounge band that Halee and Sayde play in with me as well as a lot of others over the years.
GLASS HANDS


2010- This album marks the end of a long 3 or 4 year stint of waning productivity on account of busier, more grown-up lives and better/worse jobs amongst the band-mates (I also had my twin girls in the middle of this time), and also due to some stylistic conflicts within the band regarding the production of the album. As Scott announced his retirement from the group one night, I took the opportunity to trick the whole gang into doing what I had wanted to do, resulting in the masterpiece of my life. If this isn't your favorite album of all time, it's because it's going right through you like ultraviolet microwaves. So give it another listen and imagine Terrence's, Scott's, and Dan's faces looking back at you for 4 years in the rare van, the rare bar, and in the basement room of the Westgate Business center. These are all very volatile individuals, and to be warehoused with them sounds like this album (to me—EXACTLY, which is why I had to do it like that). I'm going to help Dan and Scott make the next album just how they want (and Scott's not even in the group. He is a recording artiste, though). Lineup for this is Dan Thomas, Scott Selfridge, and Terrence Warburton. Most of the songs are written for and about them, or myself. It was an album with songs just about us. It seemed like there was nothing else left to write about at the time. Now that I've transended bandmate-ness (with the new lineup and our unrecorded, current work), the music is getting back to it's religious roots (the relegion being the compulsion to keep the band going and sing about big, important, and nebulous things- that's how the group started).
Comfort at Home about picking Terrence up for practice every night, plus the fun of being at someones house, and kicking them out of yours, and about the utah bar smoking ban. All describing strength. Also about a time when my brother Josh, whom I admire for this, drew his tolorance of an undesirable activity at less then a single second one day.
Red Bennies about the intimacy of band work using a sex metaphor. Plus lots of literal. A proper theme song for the group, plus a pretty wierd song- I put it right at the front of the album just to show that we meant business.
Hot Dudes about the difference in perspective between those who are yearning and those who are confident concerning matters of love. It's about certain young people I know who remind me of myself when I was younger.
Don't Stop a reminiscence about the reckless passion young people excercise– like wild animals. A hidden dedication to my cat who acted the same, licking his chops with his tiny brain full of love. It describes a beautiful young animal walking into the bar and taking their coat off.
You Are the One a love song for my wife. I bit the chord progression and melody from what I could remember of a song that my dad wrote before I was born, presumably about his wife.
Glass Hands about Scott's admirable personality and it's effect on his close relationships. He's very much like a blade runner robot in that regard, and the song describes that.
In the Dark about a job I used to have, a lament for myself and another love song for my wife. This song was written a long time previous to the rest, back when I had that horrible job.
Do It about Dan and a girlfriend he had a long time ago. Sitting in the dark. Crying on your girlfriend's arm after a fight. I don't know if he's done that– it's about me, too.
To Get Your Attention about myself when I was very young.
The Sun's Coming Up about a big part of Terrence's life going down the crapper. It's about the glory of change.
SHAKE IT OFF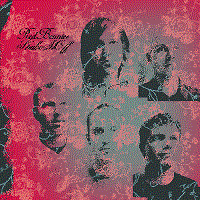 2007?- I can't remember if Paul said he couldn't do the group anymore right before we did this or right after (he and I had done the group together for a very long time. He was just about my first bandmate)– I had a first cover art version that had a picture of he and I on the front on stage amidst a bunch of settled new-years balloons looking really burned out, but that could have been awhile after we made it. In reaction to the burning out of…well, our adrenaline glands, I suppose… this album has the most rambunctious and desperate pop stylings of the batch, along with a little bit of sweet soul ballad that we miraculously pulled off without just absolutely shriveling up and blowing away like crunched and dried snail shells (in just about all our previous music, you had to turn your balls up to ten, so this was actually a big toning-down). Oh man, we really tried on that one. At the time, it seemed like it was going to be our true, big effort. We had spent a few years making CDRs and EP's and this was our first big CD with an almost-all-new group since the last. Lineup was Paul Butterfield on electric bass, Scott Selfridge (on the redundant extra guitar- he says I cut him out, he deosn't realize that it's really almost all him on the album), Terrence Warburton rocking the organ AND the rhodes, and Dan Thomas. Jeremy Smith had been living in his big-bird nest of socks at the Moroccan and running his studio there, Red Triangle Records. He tracked it while we played it live in shifts- vocals, guitar, drums, then keys, bass, and backups after, and then I took it home and mixed/mastered it- I was into our live sound, to it's a little overblown in general, with lots of PA sounding vocals. Maybe a little brash. But anyhow, the result still hinted at my desire to do it all live, which would never be properly fulfilled unttill the album Glass Hands was done. After Paul left, but before the album was done (he had always been the group's graphic designer), he made a super fancy cover for the CD that had us looking like Bone Thugs and Harmony on the front and then snuggling on the inside, and the band nixed it with extreme prejudice. Personally, I was just going with it and didn't mind it so much, I respect anything Paul does, but I remember Scott at rehearsal yelling over and over, "he's trying to f&*k us! He's trying to F#$k us!". I re-did the cover using a lot of Pauls original work. Chad Murphy of Exumbrella Records paid for this, and big bucks, too (that included the first art, that got all the way printed– Scott was yelling that about the finished CD!– plus some special silver ink that Paul insisted on ha ha graphic designers are so stupid). I think that's why we all tried so hard on it. All our Itunes sales are still paying him off I hope– penny by penny. The album has a great theme: boom boom boom boom boom boom boom boom. The song order was intended to lend itself to a 2 sided vinyl record (never happened). Leena and Dan, at one point, wanted to start a publishing company called Battlecow, and made a bunch of press kits with this album plus some Wolfs and Vile Blue Shades so the world could embrace our rad music. They're all in their envelopes in my basement unmailed.
Rocks In Your Mouth about having repeated missunderstandings with the ones you love. One line is "look at my toe, s'got a jack print on" after describing trying not to step on jacks and marbles strewn across the floor..
I'm Coming Home describing the torturous moments before returning to your love after a trip. In this case, passing Tooele, pulling into Salt Lake, and nearing my apartment in Paul's Van after band trips to California. And Terrence always insisted on getting dropped off first, that bastard!
I'll Bend You after a conversation from Mike calling from the bar to cancel band practice. We took bands very seriously in those days. This song is about when I finally went to the dark side.
The Sun's Going Down "When I was 17, I had a mind just like a fresh roll, used it up one wipe at a time, then just decided to never ever shit". Does that say it all? Paul sang really great back ups on this.
Shake It Off is about bravery in relationships. I was reading a lot of Conan books. It notes a lot of real fights I had.
The One Thing what's talked about in the song is the concrete guilt, the last nugget of identity that you can cling to after realizing you've stubbornly broken your lovers heart a million times.
For the Sake of that Empty Space is about the extinction of culture. If you stumbled on this website and loved some of the music, you'd be realizing the sentiment of this song. Man, there's so much cool stuff to get excited about if you can dig it up. Terrence worked at a record store at this time, too.
Knife in the Pocket is about youth, about me when I was 12, and about my sister when she moved to london (it was a bold move).
ADULT SOPHISTICATES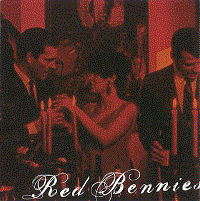 2006?- I was at the Barnes&Nobles bookstore visiting Ryan Workman. I was trying to find a good sci-fi book to read on the pot. Ryan Worked there for many years. On the side he ran a record label called Pseudorecordings and released albums for the Wolfs, Erosion, Cosm, and lots others, and he still messes with that stuff. Very high class and lots of stuff on vinyl. He also released a 7″ record for us called "Walk Right In". Anyways, we were chatting and I picked up and thumbed through a book that was laying on a stack, and it was a picture book full of naked ladies smearing different foods all over each other. Ryan was surprised and said that that book should not be out on the floor, that it belonged behind the counter in the "adult sophisticates" section. This CD could go in the adult sophisticates section. It's very sexy by the song and by the sound. Where "Glass Hands" was the most realistic and documentary CD I've ever made, this is same minus the sophistication of the later (ha ha). It's all live, all rough, and all off the cuff. After years of not being able to focus and produce a proper fine CD (of which "Shake It Off" was the eventual attempt), I decided to go ahead and treat reality properly and release all the stuff we HAD done instead of the stuff we WISHED we had done. This is my 2nd favorite CD of the batch. It is basically a remastered re-release of the two EP's we had made on CDR with homemade packaging:"Yes it's Lo-Fi 2 'With a Hug'" and "Watch Your Language". Also, in an attempt to represent the newest couple of songs, I recorded a rehearsal at the moroccan (our practice space) on my tascam four-track and added those to the CD- "The Sun's Coming Up" and "You're Dirty". These are those 2 EPs——-


2003?- "Yes it's Lo-Fi 2 'With a Hug'" was recorded live on the floor of the Urban Lounge bar in the middle of the day when it was closed. Bars stink BAD during the daytime! Especially in those days. Gentry Densley was in the group on guitar, and Mike Sartain on the Drums. Mike worked at that bar. Scott engineered the recording on my ADAT and I took it home and mixed/mastered it. Shortly after, I asked Gentry to leave the group for the simple reason of that I wanted to have Scott in the group (he had just moved to town from Navato, and was a soul mate of mine. He made the guitar that I still use in the group. That's how we met). I loved playing with Gentry, and I think he really enjoyed playing too, but I didn't think it was that big of a deal (I mean, bands are hell- it was a real favor), and he was very understanding of course (since he's a particularly intelligent and empathetic guy). However, his sister got real upset with with me and at our last show, she grabbed the mic away from me during a song. After the show, Gentry's then-time girlfriend cornered me and yelled in my face for a very long time. I've never had the chance to play with Gentry again, but I'd sure love to. Maybe not with those two girls, though. We did these CD's a little bit out of desperation (it was still very expensive and hard to make a nice CD back then)- and a little bit out of Paul's desire to make more special and unique stuff (that means hand-made) plus he had become a graphic designer. He made a super sweet package for this, which required a million cuts and folds, and took a year for each one. On our "hustle night", after hours in his job's workroom, making a batch of CD's for the release, Paul cut his thumb super bad and had to go to the hospital ha ha. Paul also made the cover for "Adult Sophisticates".


2004?- "Watch Your Language" was tracked live on the air on "Kicking Judy" show one night on KRCL. Ned Clayton came in and mixed it and I took it home and mastered it. The DJ's there had free reign over their couple of hours and Ned was the only one who could figure out a new board on the spot. Penny (one of the DJ's) moved to Antarctica to live like in The Thing later. It's called Watch Your Language because you can't swear on the radio, which was hard during our 'adult sophisticates' phase of life because of all the swear words in the songs. I made the cover for this one trying to copy my favorite Animals album cover. Scotts photo (lower right) was clipped from a pic where he was pretending to hump a huge block of cheese that he had stolen from a party we visited while in Denver because he didn't like the people at the party. From top left, that's Paul Butterfield, Me, Josh Knight, Terrence Warburton, and Scott Selfridge. I wish all our covers could have looked just like this one.
Downtown This one is about how, when you identify yourself with a certain activity, that activity validates your whole existence, even if it only takes a minute. The single hour in every week or month that it takes to play a concert, in this case. In those days, I really didn't do a lot of cool stuff besides play in bands. I'm a little more well rounded now, but still feel like a loser if I can't play shows all the time. this is from "With a Hug".
Another One This one was written for Paul, who had recently become divorced, and who was trying to find a girl he liked again. From "Watch Your Language".
Black Knots about the painfull process of letting go of past offenses. And about the fact that memory as a creative process. From "With a Hug".
The Sun's Going Down About leaving post-teen life and entering adulthood, which happens when you turn 30. From rehearsal at the Moroccan.
I'll Bend You Back then I had been very strict about the group, requiring absolute dedication and devotion from all bandmates, while adhering to my personal ethics at the time, which was to never exert my will onto anyone. I guess I began to bend the rules at this point. This is from "Watch Your Language" I think.
With a Hug This documents some parts of Mike's relationship with his girlfriend at the time. From "With a Hug"
Not in the Mouth This one uses some colorful metaphor to describe the disgusting things that can happen when you mix music and money, and also the wonderfull things that happen when you don't. Definitely not from "Watch Your Language"
Annihilate You Once, some jerk at the bar got mad because I blew him off about a show he offered me. I later thought to myself, why did he care? He was the one who liked our group in the first place, and if it mattered so much to him, why couldn't he just make his own damn group? This song's about that. From "With a Hug" I think.
Your Dirty I heard a friends band playing the most mundane rock songs I'd ever heard, and then realized that it was the song's pop sensibilities that made it energetic, catchy, and mundane all at the same time. I wish i could have learned that earlier. You've got to embrace pop music like the animal you are, and recognize the beauty in the mundane. Recorded from practice at the Moroccan.
"WALK RIGHT IN" 7 INCH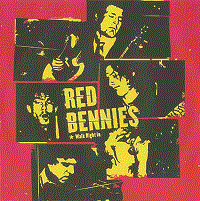 Ryan Workman of Pseudorecording record label made this for us. I can't remember exactly, but I think it must have been after we did Adult Sophisticates, 'cause the B side is a fresher version of "Your Dirty". We had the notion to only release stuff on vinyl at one point, you know, just to be cool (our wallets didn't share the notion). It was also the only way Ryan did things, probably because he needed to get his money back, and vinyl was more viable than CD's, which reminds me, I better try and buy that box of these records off of him like I promised I would. This was near the beginning of the era of internet downloads threatening music sales. This single is by far the classiest thing we'd done. It sounds great, and looks cool, too. Paul did the cover. Josh Knight played the drums on this. We used to go on weekend trips to the bay area during the summers, where Scott was from, and he had a friend named Vadim who worked at a studio called the Groove Room in San Rafael (I think). We spent 300$ on an evening's recording and these two tracks on the record here were the only ones that I felt were salvageable. I've always had a very hard time with Red Bennies recordings due to my inability to let the sound get recorded as naked as it really was, and also due to the fact that the actual playing experience of the music was very different than the actual sound– I always bent over backwards to try and capture what it felt like to play the songs, which for me was a very dense, tense, and clenched kind of exertion, not to mention that we were incredibly loud, and made louder and raunchier by the sound guy, and basically just blasted and combined into a wall of sound at the club. That's why all the recordings I've done are fuzzy, overblown and sandblasted. To record in the traditional, or "slick" fashion was my worst nightmare, and I only went through with this recording because Scott (and Paul probably) really wanted it and thought it was worth it. My love for the more subtle qualities of arrangement and pitch didn't develop till much later in life. But this album supercedes that a little (it's still about as raw as I could possibly make it from those slick tracks), and it contains some nice clarity in spite of my efforts. It helped also that we were moving into a 60′s garage rock phase and these two songs had vocals further up front and less dense arrangements than usual. I sure love how it turned out now. Also, the other 7 or 8 songs from the session sound fantastic to me now that I've gained some appreciation for that style of sound! Now I just wish we could have spent a little MORE time on them that night!
Walk Right In There's a distinct feeling of playing a show and watching a TV over the bar at the same time. Concerts suck if you can't connect with just the right, proper, and rewarding reason to carry your amp in the middle of the night in winter and endure hours of other peoples horrible bands and then try and sing as loud as you can. This song really got us in the mood to make up the right reasons. It's a pretty snotty song. There's a part in the song that inadvertantly bites a group called Black Pearl, who was one of my favorite bands at the time.
Your Dirty There's lots of rad innuendo in the lyrics.
VADIM SESSIONS:
Since they're just garbage on my computer now, and since Josh plays the drums so good, I'd love to share the rest of that session. Some of them are played pretty rough, but some are the finest versions remaining of these songs.
Another One Yeah, this must have been a long time after "Adult Sophisticates" because Mike played this first.
Black Knots also on "Adult Sophisticates"
Hey Baby This one was the one song from "Watch Your Language" that didn't make the "Adult Sophisticates" cut. We never re-recorded or released this song. er, it's actually a track on Watch Your Language, now that I think about it.
Knife in the Pocket Recorded later on "Shake It Off"
Rocks in Yer Mouth also on "Shake It Off". Josh must have moved away, and it took us a bit to get Dan caught up on these. That's one of the things that happened between "Adult Sophisticates" and "Shake It Off". He moved to Phoenix.
Thus It's Frozen This one never got released exept for on a sampler that Eli Morrison made after he started his 8ctopus Records record label years later.
Torch the Sky This one just plain never got released. I can't believe it, I thought we'd release anything!
YES IT'S LO-FI: "WITH A HUG"


2000? This was me, Paul, Terrence, and Mike very soon after Eli and Nate both left the group, and it was a hustle to show our new sound. It's the roughest thing we've ever done. It had a photocopied cover, and the disc was a CDR that had been spray painted on top, which disolved the plastic and insured that none of them worked a month later. Also, it was recorded on my dad's old Tascam 1/4″ 8 track tape console, and 3 or 4 or the tracks broke during mix down. Those pics on the cover were taken with my gameboy camera and printer set. Paul made Mike buy an expensive snare drum during this time. Almost all these songs got recorded and released later. It was recorded at the Moroccan in the hot summer (no air conditioning).
With a Hug This one was written for Mike, and came out later on Adult Sophisticates and we still play it.
Announcing This is a redo from "Announcing" CD. It's about laying it on the line in a relationship to protect yourself (and the other person).
In The Dark It's about driving to my job at the group home I worked at for years and coming home to my wonderfull wife. I composed it at the group home late at night on the playstation's MTV Music Maker.
Rocks in Yer Mouth It's about having a missunderstanding with someone you love. It came out again on "Shake It Off".
Don't Stop Saying What Hurts It's about breaking up and being tough about it.
If You Meant to Do It it's about taking the blame for things you did in your own past.
Not In the Mouth It's about selling out and doing things for fun.
Can I Have Your Heart To Break Please It's about my little brother and our cultural heritage.
All for Nothing it's about getting screwed over??
Bip Bip Bip It's about thinking things through a little harder in this sexist world we live in..
ANNOUNCING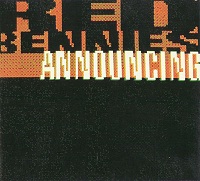 2000? At this point, Eli Morrison played the Guitar, and Nate Pysher played the drums. A friend of Eli's named Dren paid for the duplication of this album. He lived in Oakland, ran a music webstore called Clamazon, and a record label called Vaccination Records. The group at the time was Me, Paul, Eli Morrison on guitar, and Nate Pysher on drums. We practiced at the Moroccan, where Andy Patterson ran his recording studio. To pay for the recording of the album (to pay Andy to track it), cost 1000 dollars, and then I mixed it myself, with lots of help from Eli, when Andy went out of town and left me his computer. Just previous to that, after a long and torturous time with no album, I actually decided to record the thing myself (which I had never done before), and I did a test recording (Announcing Pre-Prod), and we all went down with my ADAT one night to bust it out, and we were quickly interrupted by the crew who were coincidentally filming the TV show "Touched by an Angel" in the building next door, and who wouldn't tollerate the sound we were making. We promptly lied and said that we had rented a lot of equipment and had to go on (In oour defence, it WAS very hard to get it all together for that night). The guy came over and gave me a check for a thousand bucks to not play (to cover our equipment rental costs). That's how we got Andy to do it instead. This was surely our most widely destributed album, thanks to Dren. He sureley has the entire stack of them (the rest of them- probably the greater part) still in his office or storage. For my first serious mixing attempt, it's pretty hienous. Once we were on a trip and Nate was down-and-out, and strung out, so Paul graced him with a free meal at the house of pancakes and Nate barfed right after ha ha.
If You Meant to Do It It's about dealing with your past.
Rest 30 It's about burning the past and moving on
Downtown It's about playing a show for an hour once or twice a month, no matter what the cost.
Like I'm 18 and Able to Love Forever long title says it all.
Kali Comedown Eli wrote so many great songs in his other groups, I really thought this one was cool. It was also on the Amergris half of "Hey Rocker", made by him. He wrote this song.
Don't Stop Saying What Hurts It's about being tough throughout a breakup.
Announcing It's about defensively holding your ground in a relationship.
Take It Out It's about fighting with someone you love.
ANNOUNDING PRE-PROD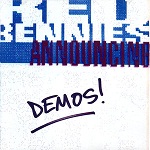 This is the batch of recordings that were done on my 4-Track as a test for Announcing. Eli re-released it many years later on his record label 8ctopus Records. It's a pretty outrageous recording, but it actually does represent what we were doing at the time a little better than "Announcing" did. I guess the albums called "Demos". I always saw "Pre-Prod" on the CDRs. I guess it was also a test to see how I was going to add the organ to the final tracks. Thanks for making this Eli!
Announcing
Don't Stop Saying What Hurts
DownTown
If You Meant to Do It
Like I'm 18 and able to Love Forever
Listen Up This one didn't make the cut and never reapeared, but I really liked playing the song. It's about wasting your life away at your job. It references the "behavioral reinforcers" that our clients dealt with.
Rest 30
Take it Out
SELF TITLED SOUL002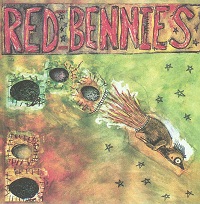 1998? This one is called "The Chicken Record". Kirbir Dey had a band called Puri-Do that I played in. He had a record label funded by Inma Dey, I always believed, called 19 State of Deseret Records. He was a fan of the group before we made our previous album "Hey Rocker", which represented our work during that year. He was dissapointed because he liked the songs from the year previous, so he offered to make this if we put those older songs on it. In those days, we took whatever we were working on right at the moment very seriously, so it was very awkward to go back and revisit these songs that we had already left in the dust. Now that we're older, we love playing any old song. Will Sartain has a record label too, called Kilby Records, and as he heard this album a lot in his formative teen years, he had a soft spot for it and asked if he could re-release it. So now, I've got a box of Kyrbir's batch downstairs in my basement, and Will has a box of his version in his. I remastered it for Will and it turned out really good- those recordings are here I think. Josh Stippich recorded, mixed, and mastered it the first time. Andy Patterson played drums on it. Steve Gibb played some drums on the second bonus half of the CD, and maybe even Robie Davis, but I don't think so. On Will's version, I snuck in some special hidden features, that are a batch of MP3′s that do have Robie Davis playing drums in concert at the Moroccan. I think those are the only recordings of him. This was done at Josh Stippich's studio, which was in his dad's house in Cottonwood, and it was a real shit-hole. Man-o-man, his older brother and his friends lived in a trailer in the back yard by the green pool, the house was torn to shreds from Josh and I cutting it up with saws, and the dog Bud laying and slobbering on everything, and that was some rough post-teen, pre-adult living. I sure loved growing up with Josh.
I'll add the blurbs here that were on the CD jacket.
All I believe in one night stands and those strings will never break and I believe in on life stands
Provo Cries Can I drink outside yeah a mickey's bomb do I know anything yeah I know it's not mine (it's about a warehouse in southern Prove where I lived with a bunch of punk rockers- most notably Darren Hutchison of Scrotum Poles, Puri-do, Stretch Armstrong, and Matt Barlow of Rapture, Tony Snow of Puri-do)
New Girls since the day I died I've only eaten my heart and your memory clings to my walls like a vine
I Am God All I can do
Carrie her blue eyes and no surprises
The Busses Don't Run At Night the leapords never sleep and they catch my foolish friends as they jump on each others backs in the grass (Purr-Bats covered this song on the CD "Salt Lake City")
Tyler to fill him self up tyler gets himself off but he comes away more of his soul each time
Rocket to Moon but not me, never again
then there was an intermission, and then these "secret" tracks (It just means that Rocket to Moon has a few minutes of silence at the end, which is what you'll hear if you download this. That was a popular trick back then)
To be Done with Mad Fervor by Dave on rhodes and 4X (our proper recording of this song, intended for Hey Rocker, didn't turn out 'cause we played too bad. I had inexplicably set a dictaphone in the corner when I tracked the vocals in a room by myself. Not confident enough to track the vocals that way, I was experimenting with holding and strumming my unplugged guitar at the same time. That's what you can hear in the background as I mute the vocals in and out).
Pick a Floor Steve on drums again, josh recorded this live at the moroccan (major insight, I still think the bonus mp3′s on Will's SOUL002 were recorded by me at the moroccan and played by Robbie- but then Josh Stippich said the other day that he remembered ADATing a moroccan show. I don't know what this stuff is)
Every Glowing Atom this gem recorded on 4X in Paul and Steve's basement in the old days
All Gone Bad same as pick a floor at the moroccan
Food Heat Sleep Love + Soul Eli secretly technoed this at Josh's as a surprise
One Last Scratch trying to be intimate or group deosn't know song? (who knows whats up with this. It's the first song of the album we just did. I must have thought it would be cool to redo it like To be done with Mad Fervor.
HEY ROCKER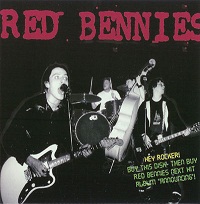 1998? This was Red Bennies first CD and first serious project (in those days, that meant "album entended to make you famous and rich"). Ryley Fogg meticulously helped us match the red on the cover to the red jewel case disk holders that Eli wanted to use. They didn't quite match, of course. Maybe that's why Paul went into graphic design. Robbie had recently quit the group on drums (by "quit" I mean that he must have missed a practice and got booted, man we were so strict back then, it was life or death! But you know, time is valuable, he kept to a pretty flaky schedule), and Andy Patterson had started playing. That guitar on the front I'm holding was bought for me with money that my girlfriend (and wife now) collected from my friends for my birthday. Before that, I had a Hondo strat looking thing that I threw together myself, and that went out of tune quickly. Years later, I realized that it was because none of the tuners were screwed into the guitar ha ha. Eli Morrison had joined the group and he played in a another group called Polestar with Andy Patterson, and they practiced at Positively 4th Street downtown, so we did too. It was like practicing in a maximum security prison- entrance procedure, clientel, building style, snack machine quality, everything. This was recorded at Josh Stippich's (dad's) house in his studio, on ADAT, and mixed/mastered by josh- I guess partially produced by me and Eli. There's one song that has crickets all throughout it. Those were mic'd from right out the door- the purpose was to cover the insanely loud cowbell click track that bled from Andy's headphones when he played the drums, and that you can still hear through the crickets if you listen close. Leena, (my wife now) loaned us the money for the CD, and Josh recorded it for free. The album's called "Hey Rocker!" because of the ad on the front that I bit from a sticker I saw on a Fall CD.
One Last Scratch It's about an astronaut that gets stranded on the moon and then re-thinks his life before he dies. Reminiscient of a Ray Bradbury story I read round the same time.
All it's a love song sung by me and Eli to a girl we were both dating. (almost all these songs are about the turbulent love times of pre-adult *that's before 30* times before I devoted myself to my lovely wife Leena)
Gotta Bite My Lip same, but this time just about me, and sung about two girls I was dating.
Thick as Honey same, but this time just about Eli.
Can I Have Your Heart to Break Please It's about the culture I grew up in, and about my brother who had recently come home from a hard trip.
Carrie This is about a trip I went on with my first serious band (Charlie Johnson's band, Denial/Deviance) to Seattle (that was the mecha of the day), and we got in a fight on the trip and I ended up staying there in Elensburg with the band Pipefitter. Two weeks later, I got a ride back and got dropped off right at Josh Stippich's house where the Numbs were recording "Metaphonic", then they drove me to provo right to Leena's house. When I was in Ellensburg, I had written her a love letter and that had something to do with us going out after that. The song is about what happened later in the night after Charlie was locked in the van and me and Jesse were stuck outside the club as the show hadn't worked out for some reason. I took a bolder move than I had in the past and left the scene with some friends.
Yeah This is It this one's about my bohemian lifestyle of the time, and was inspired by Kyrbir and his bohemian lifestyle.
Here Comes Robin this is about Robbie Davis, who was our drummer for a year or two, and who was also a dirtbag like myself, but much worse. I played with him and Gunnar Olsen (of Numbs) in the group Optimus Prime for a long time. Plus he was my best friend when I lived in that warehouse in provo. He went on to live in a storage shed in Lindon for a long time.
Dynamite or Atom Bomb man, these post-teen pre-adult years are tough aren't they.
AMBERGRIS
When we made this CD, I was very efficiency concious, and couldn't bear to waste half the area of a 75 minute disk, so I told Eli we should put his other band on after the Red Bennies stuff. It was called Ambergris and it wasn't even a real band, just a batch of recordings that Eli had made at Josh's house, but spent a lot of time on as if it was a real band. He must have intended to play a show, but I don't think he ever did. Eli wrote all the music. It was Eli on guitar and Pat "Dillbag" Dahl on bass (Pat and Eli lived together for a long time, and he was the first person so show me a Sega Saturn. Pat was the first bass player for red bennies). Andy on drums, Jared "JRuss" Russell on sax, Josh Dixon on trumpet, Mat Mateus on rhodes, Jim Kimball on something (Josh, Matt and Jim all played together in Stella Brass). I played some guitar parts. Amber Jarvis was the singer. Amber and Eli played in another group together years before called Mouthbreather, and this group seemed kind of like a continuation of that thing, mostly just because of Amber's voice, but also the songs a little– oh I just realized some of these are Mouthbreather songs. I was lucky enough to play in Mouthbreather for a bit. It was later in their career after Sunshine Volz was the singer. Sunshine was also in Deviance with me and dated Charlie (the drummer) who lived in SLC (I and her lived in Alpine and Highland), and Sunshine would give me a lift to SLC with her in the morning (she worked at the Hot Topic in the mall), and she'd drop me off at Eli's where I'd spend the whole day and then practice in the evening and drive back with her. So Eli would literally have to babysit me all day long a couple times a week, and perchance make me some noodles sometimes or let me play DOOM on his computer. My god that was hell. Eli always wrote the best music. After he was in Red Bennies, he did a band called Wolfs that played for years and was excellent. He won't admit it, but I was the one who suggested the name Wolfs while we were on a trip to Colorado. So cheers to me. Cool name. Me and Amber played together for a long time in the group Optimus Prime/Blue Sparks, and currently try and play in the Jr. Caveman Players together.
Push Me Down I think it's about S&M
Landshark seems to be about a cool huge car? Maybe because Eli was so poor always?
Still Waiting This one was a Mouthbreather song. I went to a Mouthbreather show at club Stars, which was in the church building over the fence from Kilby Court, and Eli had handed out lyric sheets before the show, and I remember this on there. I tried to do that with Red Bennies sometimes after that. Man, we were hardcore.
Mary Another Mouthbreather song.
Matchstick Man Eli must have done this with the same attitude with which I did "Hot Dudez" on Glass Hands. Great full spectrum sound!
Angel Another Mouthbreather song about torture, sex and death. Eli must have wrote these songs when he was the same age I was when I wrote the Hey Rocker songs. But he cuts right to the chase. He always had it worse than me in the torture, sex and death department.
Kali Comedown Taking it to the limit again. Red Bennies covered this song on Announcing. I really admired Eli's music. We played together in Purido, and made their last album together, too. I always had a chip on my shoulder that he wouldn't let me be in Wolfs. During a hard and boring time of Red Bennies (right after we made Announcing), he asked to take a break from the group, and then I went on without him and didn't have him back, so technically I guess I kicked him out. Our relationship was strained after that (he had done a lot of the work in the group, and back then I was very strict about my ownership of the group, so I didn't give it a second thought. There's a song called "All For Nothing" on Yes it's Lo-Fi (written right then– it was really aimed at Nate) that was me saying "hey man, if you want to be in my group, find you own reason's to have fun and stay off my back and don't mind when I kick you out"). We worked at the same grouphome for years during that time also. Andy got us the job there.
Pigeon Killer I don't know what the song's about, but one of Eli's most valuable posessions was a blue pickup truck he had that he would park under the bridge next to Positively 4th street (the bridge used to be there)–a lot, cause there was lots of practicing– I think Andy lived there in the practice space (I know he lived down the hall in the big room later, at least, where the tweaker dude would do his double bass through the wall 27-7. I remember he had to pawn his drums at one point and it was just taps and toms), and the pigeons crapped on his truck all day and stripped the paint entirely off the truck.
LIFE AS I KNOW IT


1996? This was back in the days when cassette tapes were OK to make and sell. Kyrbir had a special line on how to get tapes made for a couple hundred bucks. This came out on his label, 19 State of Deseret. He had done some Purido tapes around the same time.This features Me, Steve Gibb, and Paul Butterfield, and that's the people in the pick on the homepage of rest30.com which was from the same time roughly. I had moved into a warehouse in south Provo with some punk rockers, most notably Darren Hutchinsen who practiced there with his ska band, Stretch Armstrong, and with his punk band, the Scrotum Poles. I always admired that he could be true to himself and sell out at the same time (ha ha we thought ska was lame. He would confide in me, "You know, I like playing in that ska band". The ska band was very popular). We had other roomates, too, and the place was pretty much a hotspot for delinquency, debauchery and general chaos. I paid my rent there (90$ a month, plus I lived up in the ceiling), by visiting the Plasma bank (which would have covered the 90$ easily if I could have gone regularly), and also by putting on shows. I'd charge 3 bucks a person or free if you brought a can of food (which I'd eat, if the Daughters of the Nile didn't raid the box- they were the Goth band that caused trouble). Anyways, I had some great shows there with Verdegreen, Ether, Polestar, Optimus Prime, Kid Hideaway and the Warboy, Scrotum Poles, Strange Itch, other stuff, I wish I could remember all the groups. It was an all ages, underground disaster, and I think Darren got in big trouble as we finally got kicked out, and had to pay lots of money to the law years later and into his adult life. One show we played featured a slideshow of pictures that I had painted, that went along to our song "Life as I Know It" in a dramatic way. This album is essentially the audio taken from the video footage that I had Jeff Fogt take (he was a roommate) during the show, and maybe some songs during rehearsals the same week (It surely wasn't my video camera, probably Josh Stippich's dad's). I mastered the tracks at Josh's studio (which was in his dad's house). I don't believe there were any other all ages places to do concerts at the time.
Provo Cries This song is about doing the shows at the warehouse where I lived. It documents some of the better moments.
The Feel What They Do This song is also kind of about doing shows at the warehouse. Mostly about being in a band, though.
Pay This one's about my belief at the time, that I'd never have a cent to my name.
Rocket to Moon This one's about quiting another band I was in, called Deviance, that I was in when I started doing Red Bennies. It was a pretty rough band.
Famil This song's about maintaining a strong sense of personal honor and optimism amidst feelings of being oppressed and picked on.
Of His Friends This song its about my best friend Josh Stippich who, through the unwitting grace of his mom and dad, funded my existence through all those years. It documents a few times we spent together one summer.
The Summer Day A song about that same summer I spent at Josh's dad's house.
Carrie This song is about a girl I met while on a trip with Deviance. I ended up staying out of town in Ellensberg washington with the drummer from Pipefitter and my dad sent me 50$ during that month, which took my total expenditures to 90$. Man, there are some really lonely people (to invite me to stay in Ellensburg with them, basically the members of Pipefitter).
Life as I Know It This song was performed with a slideshow, and in the song I say "now!" every once in awhile- that means to change the slide. We did it in a show at the warehouse, and this recording was from a video tape of that.The slides showed paintings I had made, and were roughly tied together by the song as it narated some personal development issues I had had from high school till then (It had been a year or two).
FAMIL


1996? I was living in the warehouse in south Provo, I had borrowed my dad's nice dual cassette machine, I had bought a large batch of the cheapest blank tapes I could find (I later found out that that tape/tape deck combination left a lot of the tapes without the left side of the audio recorded), and I had a bunch of recordings saved up, mostly from late nights at Josh Stippich's house. Some of the tracks were just me on all the instruments, or just prototype songs before I even had the band. Here they are in alphabetical order:
Carrie Just laying it out in the most ebarracing way.
I Hope It's Good about hoping all the un-enlightened people still enjoy themselves
Moon and Star appreciation of the subtle beauty and perspective given by gazing at the night sky amidst a hopeless life. This one was recorded on ADAT in the back of Josh's van (which was coincidentally my childhood van he had bought from my dad), at the High Desert Festival. A friend had a little piece of land and a tiny cabin way out east of Vernal, and a couple times, they had mini woodstocks out there. Very heinous. After being bumped from the night before, we played this set very loud and early in the morning the next day. The campers were not happy.
Never Try some kids think about colledge, I wrote this song.
New Girls This one's about the many times Josh Stippich, my patron, my friend, my bossom buddy, would get a girlfirend for a bit.
Not Yet I have no idea what I was thinking when I wrote this.
Rocket a song about the inevitable falling into ruin of my safe environment and world view.
Rocket to Moon About quiting the band Deviance. Man, we had an eight song set, that went in the same order every time, we practiced twice a week, and we played the set twice every time.
Sleep about what I now call (to my two 4 year olds), "taking a time-out"
Sunshine about my goth propensity to avoid the sun and have energy at night.
The Dream about a girl I met in a dream that I thought was important
The Group about the importance of finding like-minded people to spend time with
Three Dollar Dye about the attitudes I had at the time regarding the foolishness of getting your hopes up, and the wisdom of the dao.
Weak pretty much a duplicate of the song Sunshine.

OTHER ALBUMS I STILL HAVE TO SCAN AND POST
Mota Glowing River: an album Eli did- tape cassette and book, it had some Red Bennies songs of the time plus some trippy remixes of the songs that eli had done. One is called F.H.S.L.&S. and is at the end of the Chicken Album. Another is a recording of the song Every Glowing Atom, imediately and seemlessly followed by the whole song again but backwards.