PURI-DO
"QUALITY SLEEP TIME"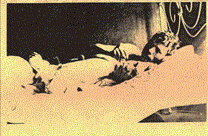 -This was not a Rest 30 Records release- but rather 19 State Of Deseret, Kyrbir's record label. And go right to the bottom of this page if you'd like to get cleaner versions of what's posted here. This album, "Quality Sleep Time", represents the final effort of the band Puri-do. It was recorded and mastered by Josh Stippich, and played by Kyrbir, Eli Morrison, and David Payne. Kyrbir had moved to seattle for a bit (where he did his band Hooo) and had returned for a summer before his long move to london. Dr. Anthony J. Snow and Derwood Anne H played some little parts, as well as Paul Butterfield and Brian Pfrenz-c. The current "official" performing group at this time consisted of Anthony Snow, Derwood Hutchison, Eli Morrison, David Payne, Kyrbir, and Matt Barlow, but the album was recorded as a rogue move by Dave and Eli as the group had grown apart, and they wanted to seize control! All the songs labeled "Sleep" are brief soundscape bits (mostly stiring a bowl full of jars of pills at Inma's house one day captured in high-def on David's four-track), and the album was meant to be listened to in order (perhaps inducing a nap?). The album turned out very nice. It was made in the era of CD's, and a CD release was planned, but as the performing group didn't really exist and Kyrbir was going to move back to london, it only saw a cassette tape release, so this is probably your only chance to hear it, although, the band "Sleeping Bag", which was formed for the sole purpose of putting songs on Slug Magazine's "Death By Salt" music compilations, and for playing two lonely shows– but with the ideal of starting a regular band to play soft and beautiful music– revived many of these songs.
Here's some highlights of the album process:
1. Josh Stippich had a stank-ass dog named "Bud" who gave him, not rabies, but scabies.
2. Josh recorded the whole thing on his fine multiple ADAT and computer setup.
3. Kyrbir would sing in the sick-ass drum carpeted drum room and beat a pen against his chest real loud. That's the percussion. I'm going to listen to these and post a little bit about each song.
Also! I don't know the names of these songs, so click down below and reference the bandcamp page to learn the truth.
Download "Quality Sleep Time"
Sleep 1 I bit this sweet bite of poetry from Josh Stippich
A Blossom Storm These are Eli's sweet chords and snare drum played down the hall. I remember we were all blown away by the "snare down the hall" idea.
The Grass Grows Faster and Fuller in the Shape of Him Here's the old "pill stir" intro. I Might have written this guitar part in the middle of the night in the crawl space I lived in. I played it on a the brown Alvarez guitar of my dads. Wow what a song! Eli's idea to add those keys near the end. I played the Rhodes while he turned the speed and depth knobs of the tremolo.
Sleep 2 I believe it's a slowed down train sound plus a slowed down creepy doll. Or is it! Into a sick turkey gobble sample.
What Are You Up To I guess this could be Eli's synth with the broken keys, maybe they made this one when I wasn't there.
Sleep 3 This is the drumbeat from another song run through one of Josh's or Eli's "Studio Effects Machines". The drumbeat is called "Random Hits Beat" and was a trademark of mine.
Robbie Bunny This has got some crickets from Josh's patio, recorded over some Deseret Industries handheld mics, and it's over the "automatic left hand" of Eli's Keyboard. Hopefully not documentary of little Kyrbir, at least not to this soundtrack! Damn this album's amazing through the earbuds. Man, major cricket indulgence at the end.
In the Shapes They Land In I wrote this guitar part in the night in the crawlspace I lived in. Sleeping Bag revived this song later, and Purr Bats, too. If you play this song on the keys, then halfway through, you can pound on any configuration of white keys and it sounds amazing. That's one of the secrets of the song.
Sleep 4 Whoah, tiny piece of another song's drum beat.
Give the Bed a Name I don't know what these sounds are, or how we made loops in the studio or anything. I don't think it was on the computer. This sounds like how Kyrbir plays the guitar.
Sleep 5 And here's the first MAJOR pill stir. Inma and Kyrbir lived in an old house just at the bottom of the slopes past Capitol Hill. I distinctly remember stirring these pills. A pan change to finish it off (studio pan, not pill-stirring pan) was my idea.
Full of Awe Eli's famous drum-and-or-delay machine that I remember being screwed to some dirty boards or something, over a guitar part I'd written after hearing a Death In June album that sounded similar. Those high notes are quite constant, that's for sure. Eli played Rhodes and the knob that rocks those boomeranging fuzzes on the snare. Wow.
Sleep 6 (Warehouse Song) This song was literally written and played by me in the middle of the night in the dark in a warehouse. With slowed down pill stirs. Kyrbir was a big Virgin Prunes fan, and I always thought that this electric guitar-y stuff reminded him of the Virgin Prunes. Though I'm hearing it so much, now. It's the delay. I love this amazing technique: "We just can't go this long", "Just pan it to the other side", "OK, problem solved". "should we do it again, now?", "yeah lets try it again".
Autumn Air Now Another one from the crawlspace I lived in. Eli on Rhodes, with me on his depth and speed knobs. That hiss, is the amp and guitar that I used for Red Bennies. It's called a Peavey Renown 400. Beautiful.
Sleep 7 Again from the crawlspace where all I could do was huddle in the dark and pluck all the notes in unison over and over. With my hand in a little cold fist. This time it's also me on delay knob.
All It's Cracked Up to Be and So Much More There's that pen on the chest I was talking about. Man, listen to that rock hard chest! Kyrbir was always such a hunk. This song kills me with Utah Valley beauty or whatever it's about. I don't want to talk about it any more, it's really gorgeous. But now that it's over, I've got to mention that I got a digital delay rack from my brother Joe, and I mounted into my Renown 400 guitar head that I made. It had a floral print upholstery and the cab was covered in bold red shag carpet. Whoah.
Ransacked and Ravished Lots of great disgusting imagery in this one about the gross effects of love. I know it's coming, me and Eli tried to do "angel backups" at the end of this song. I can hear Eli's great organ sound in the background. And there's the backup vocals- yes, still embarrassing.
Harpooned and Dragging I remember writing this guitar part. Whoah, getting kind of grungey. Thanks for saving it with your sweet vocals about evolution, Kyrbir! I'm sure that the reason I played this song by myself is because there were to many notes to have to show someone else. You'll notice most of these songs only have one riff.
Sleep 8 This is a snippet of the great song Eli wrote from another album. This song was cool.
Sleep 9 Yow! who knows?
Sleep 10 That, I recognize. It's guitars. I might add that all these breaks were Kyrbir's idea.
Strange Force of Will It's a revisit of Full Of Awe. I played the keys on this. That's why it's a different chord every time. I thing maybe Eli might have even played the bottom notes and I played the top.
Song for a Boy I think that Derwood wrote this guitar part, or maybe Kyrbir did? I remember that Kyrbir came to the studio with this song ready, and I was impressed with where he got such a beautiful song.
Lull Sleeping bag played this song years later. That's Eli's cool organ synth, and I wrote the guitar part.
Force Out the Joints And here's my trademark beat, "Random hitting". The secret of this song is that a high note goes forever, until it finally plays a little lower. I have no idea what that bassy sound is. Duh, it is Paul Butterfield, ex-Orchestra President, bowing his upright bass.

The internet is not a static thing. This button may do what is says, on your modern computer.
This Album is also on Eli's 8ctopus records and his bandcamp! He specializes in physical copies. Check over there, maybe you can get an actual tape.
And check it out! there's a Puri-do page on bandcamp.