ETHER ORCHESTRA
"GHOUL BAND"


The album "Ghoul Band" consists of Ether Orchestras hard work in up to three decrepit and mouldering basements. Band is Ryley Fogg on Rhodes, Jesse Beacom on Guitar, Scott Selfridge on Bass, and David Payne on Drums. Paul Butterfield plays bass on most of these tracks, however. Close sounding tracks recorded by Scott Selfridgein the dank basement where he lived with Judd Powel. Rest mixed or mastered by David Payne.
Download
"Ghoul Band"
Beer Time
Come Together
Crapiopia
I'm Your Bossa
Keep it Up
Nightmare Before Christmas
Peter Sellers
Please Stop the Night
Round Two
Scratch Tactics
Boom Boom
Twenty One


"ALL YOUR BRAVE JUNKIE TOMORROWS"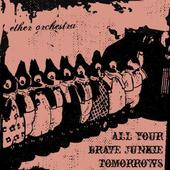 "All Your Brave Junkie Tomorrows" was recorded, composed, and produced during the last days of the first "Ether" epoch, as an alternative to the rambunctious hippie sounds of that band. It is performed prior, and by different people than "Ghoul Band", particularly James Acton on drums and Thane St. Clair on bass, with Dave Chisolm on a trumpet track, but mostly it is a production piece by Riley Fogg. If you'd like to buy this album, visit Ether Orchestra on myspace.
Download "All Your Brave Junkie Tomorrows"
Would it Kill You to Try?/Her Dramatic Entrance
Please, Stop the Night, Please/Somewhere, Stars…
A.M. Swims Away
Port Ou Prince
With Apologies to the Host
A Trembling Surface
These Fires Burn Fast
Up Cavalry, Up Infantry, Up Artillery


"HAVE A TASTE"
ether orchestra clip
Here's a Youtube I found that has Paul playing bass plus dubbed music. But aren't they handsome? Plus, just the right length.